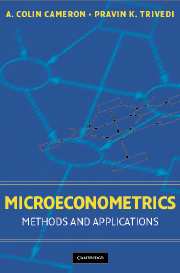 A. Colin Cameron and Pravin K. Trivedi
MICROECONOMETRICS: Methods and Applications

Cambridge University Press
May 2005

EXERCISES AND SOLUTIONS

- October 2010: Only chapters 4 and 5 exercises are given.
(ideally this will be updated to include other chapters but so far it has been hard to find the time).

Several exercises have typographical errors: click here

For additional exercises: click here

For a summary of exercises by topic and rough indication of difficulty: click here.

For solutions to some exercises (usually odd-numbered): click here